QUIMMTEC
At Quimmtec, we gather 25+ years of experience in innovative product design and development. Our goal is to integrate groundbreaking technology into today's manufacturing operations.
We combine our knowledge from different fields in material science: polymer chemistry, nanotechnology, metallurgy, fluid dynamics and chemical synthesis. Our solutions are designed to provide increased performance and quality with technology that is easy to integrate to existing processes.
Our proprietary designs are combined with Quimmco's chemical and metal mechanical manufacturing capabilities to provide affordable solutions to challenges in many different industries.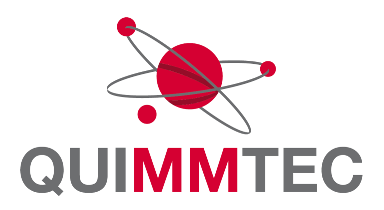 Quimmtec
Steel and Iron processing Water treatment
● Corrosion inhibitors ● Contaminant separation and functionalization
● Lubricants and machining aids ● Hardness reducers
● Heat treatment optimization agents ● Bactericides and remediation agents
Animal nutrition and health Food processing
● Probiotics ● Organic preservation agents
● Preventive solutions for ticks and fleas ● Stabilizers and emulsion additives
● Hyper-concentrated nutritional supplements
Mining
● Nanoemulsion chemistry
Quimmtec
QUIMMTEC
Torre QUIMMCO,
Ave Roble 701, Piso 11,
Col. Valle del Campestre,
San Pedro Garza Garcia, N.L.,
C.P. 66265, MEXICO
t +52 (81) 8368 7500
alejandro@quimmtec.com
Quimmtec